Upcoming Events
To find a particular event, browse by date, filter by program, or enter a search term.
Terrific Tastings: Grandma's Swedish Cookies
Sunday, December 5 @ 1:00 pm

–

2:15 pm
Let us deliver 6 boxes of grandma-inspired cookies to your home, then join a Zoom discussion & guided tasting with the company founder.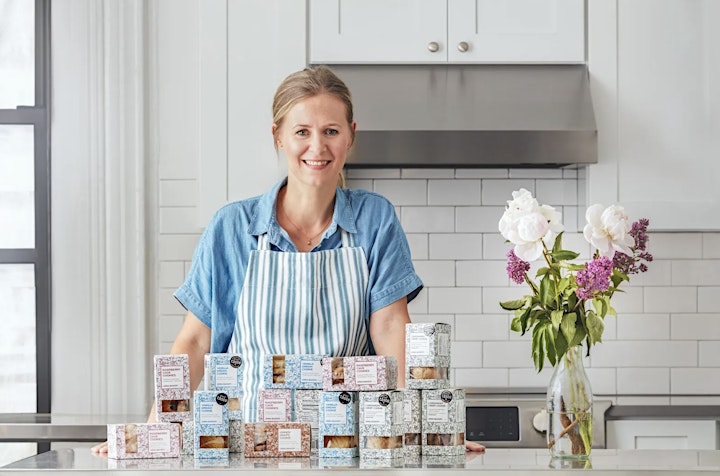 Terrific Tastings: Grandma's Swedish Cookies
Sunday, December 5
1-2:15pm (PT), 2-3:15pm (MT), 3-4:15pm (CT), 4-5:15pm (ET)…10pm in Sweden!
ORDER BY NOVEMBER 21st!
on Zoom
Ulrika Pettersson has fond memories of baking cookies with her grandmother Rut, then riding on the back of her bike to share them with friends who lived by the lake in Östersund, in northwestern Sweden where she grew up. Today, she uses these same recipes to bake with her two daughters and as the basis for her lovely line of Swedish cookies.
Let us deliver a collection of cookies to your doorstep. Pour yourself a cup of coffee/tea or glass of champagne and join culinary host James Sokol to meet this charming entrepreneur for a discussion about her background, her business — Unna Bakery — and, of course, her cookies! Six varieties (see below) will be tasted; some will include pairing suggestions.
Come for the cookies; stay for the fun!
Cookie Notes:
Non-GMO and Kosher certified.
Made with real butter, never palm oil, soy or preservatives.
Processed in a facility that also handles soy, tree nuts and peanuts.
Collections will be shipped the week before the tasting.
Brown Butter Cookie
These award-winning Brown Butter Cookies are rich and golden with visible almond pieces. Intensely buttery on the nose, with honeyed almond and vanilla bean aromas. A crumbly consistency with a satisfying crunchy, extra crispness from the almond and a long, lightly salty finish. Well balanced with the buttery richness lifted by chunky flakes of toasted almond. A little nutty, a lot crispy and completely delicious. The Brown Butter Cookie is grandma Rut's favorite!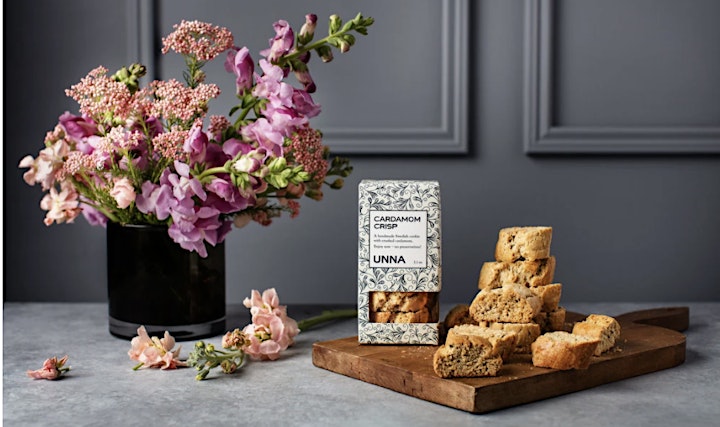 Cardamom Crisp
The award-winning Cardamom Crisp Cookies are similar to a biscotti but not so hard on your teeth. The perfect match for your coffee or tea. It has minty flavor to it and should be enjoyed with coffee or tea, or why not sprinkle it over your ice cream or yoghurt? The Vikings brought cardamom back a millennium ago, and we've been baking ever since. Ulrike's 5-year-old daughter can easily eat a whole box of these; they are addictive!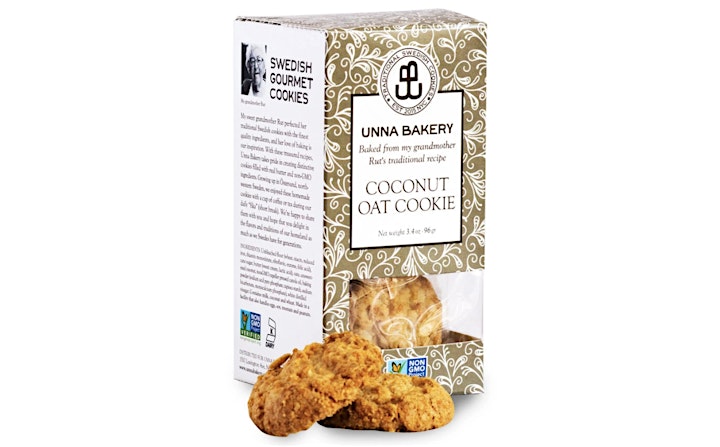 Coconut Oat Cookie
These award-winning Coconut Oat Cookies are very light and crisp with a buttery feel and distinctive coconut flavor. The combination of coconuts and oats means these have considerable texture which makes them feel wholesome. Lots of oats visible, which we like. There is a hint of chewiness which, along with the crispiness, makes them really enjoyable. This Coconut Oat Cookie is unlike anything else on the market and perfect with a cup of tea. Straightforward and honest without any superfluous ingredients. They have the right balance of healthy oats and coconut.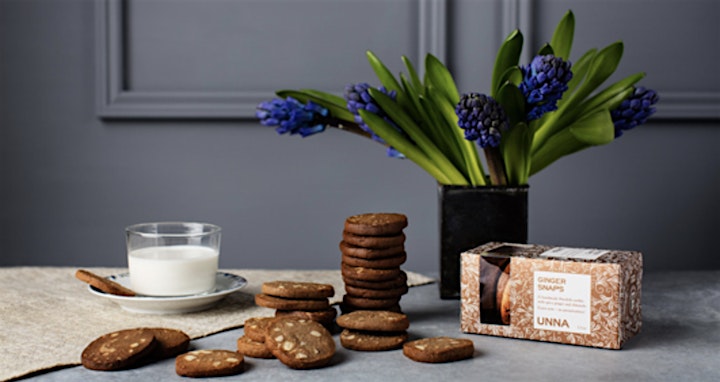 Ginger Snaps
This crispy, nutty Ginger Snap will transfer you right to the Holidays. First, sweet butter is browned. Next, flavors of a traditional Swedish holiday – ginger, clove and cinnamon – are mixed in. Finally, almonds are added for that perfect balance. With lots of flavor and plenty of snap, these Ginger Snaps are a must for the Holidays.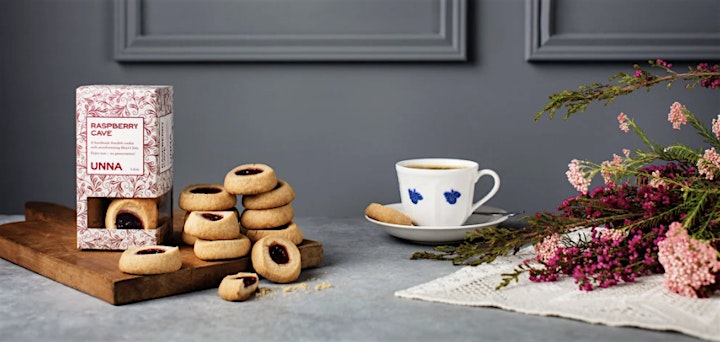 Raspberry Jam Drop Cookie
The Raspberry Jam Drop Cookie – an Unna Bakery classic – is a buttery and rich shortbread filled with a sweet & tart raspberry jam. They are baked just just long enough for the butter and sugar to caramelize and get the golden color that Ulrike likes so much. The Raspberry Jam Drop Cookie is the prettiest cookie on the table!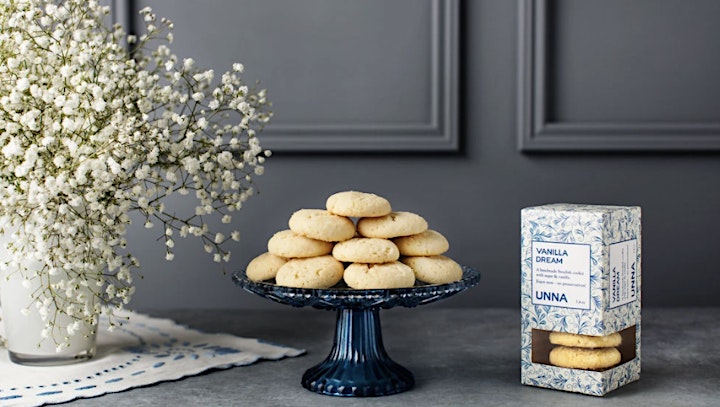 Vanilla Sugar Cookie
Unna Bakery's Vanilla Sugar Cookies are award-winning, crisp, airy and melt in your mouth. A European leavener is used to help rise and create tiny holes in the cookies that gives them a special character. While a bit crumbly, you might make a mess when eating them, but its worth it.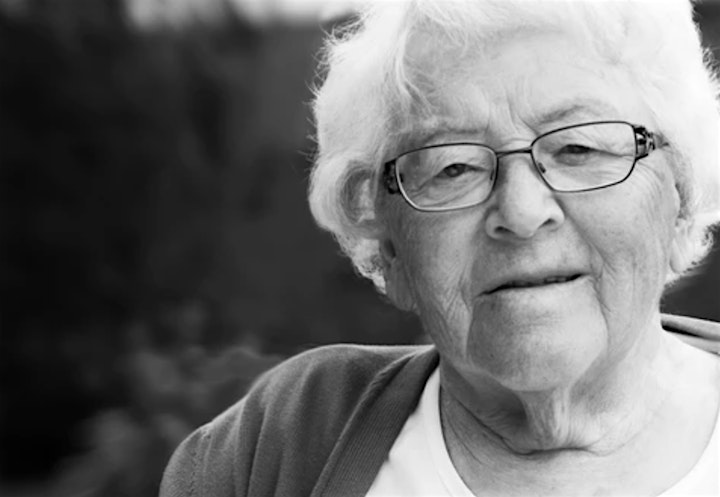 Cookie Collection & Tasting Experience Ticket($45):
includes:
Six boxes (3.4 oz. each) of cookies, one box of each of the following flavors: Brown Butter, Cardamom Crisp, Coconut Oat, Ginger Snaps, Raspberry Jam Drop & Vanilla.
– One discounted ticket for one device on Zoom to the live, tasting experience.
Discussion of the history and development of this woman-owned business;
Guided tasting & discussion of each cookie;
Pairing recommendations for some of the cookies;
Fun banter with our Special Guest.
Packing & Shipping to one home or office address. Shipping to PO Boxes is not available. Please double-check that your address information is correct before submitting it.
NB: Collections are available for order thru Sunday, November 21st.
Share-the-Love Tasting-Only Ticket ($15) includes:
Would you like to share a collection with others? Get a friend, neighbor or someone fun (re: irritating people are not allowed) and split the cost of the collection, then purchase extra Tasting-Only tickets for as many devices as are needed.
– One ticket for one device on Zoom to the live, tasting experience (see above).
NB: "Tasting-Only" tickets are available thru Sat, Dec 4.

The Fine Print:
Fortunately, we've had very few issues, but just to be clear…
Your Zoom "Event Link": The Zoom event link will be emailed to all registrants 2-days before the series begins. To help it land in your "inbox," before registering, please add the following emails to your contacts:
James Sokol — jsokol@marinjcc.org
JCC Alliance — alliance@marinjcc.org
Registrants are requested to make sure the email w/link has arrived by the evening of December 3rd. If the email does not arrive, please see "Troubleshooting" below.
The email w/link will be re-sent to all registrants about 2-hours prior to the event. NB: However, if it landed somewhere other than in your inbox upon registration, it will probably do the same later.
Have a Comcast email? Please refer to this guide: https://www.xfinity.com/support/articles/spam-filters-and-email-blocking-new-experience.
Troubleshooting: We will do our best to remedy any issues. Registrants who have NOT received the email w/link are asked to check their email "junk" and "spam" folders. If found, please move the email to your inbox. If the email/link is still not there, please contact James (see below) immediately.
Late Troubleshooting: We will try our best – but cannot guarantee – help with Zoom links to guests contacting James less than 1-hours prior to the event.
Live Only: In agreement with our guides, artists, instructors, special guests, etc., events are not recorded. Make-up sessions are unavailable. Credit/refund is not given for missed events.
Liability: While we will do our best to remedy any issues, The Osher Marin JCC & its Program Partners cannot be held responsible for 1) issues related to Eventbrite or Zoom, 2) ticket buyers not following the instructions above, nor 3) packing, shipping, or deliver services of food/beverages not received in time for tasting events.
Don't ya just hate "the fine print?!!"
Questions? Email James at jsokol@marinjcc.org.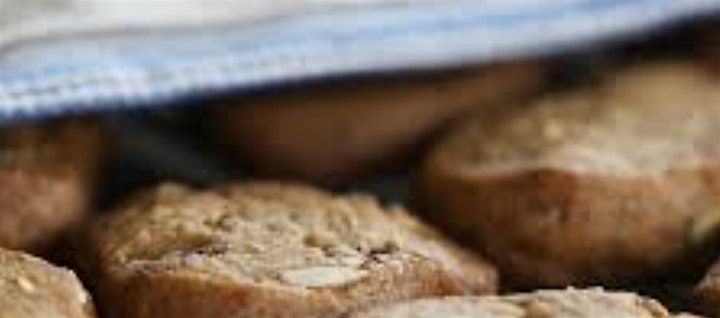 Terrific Tastings is created by the Osher Marin JCC (San Rafael, CA) and offered by the National JCC Adult & Senior Alliance. See below for a full list of Alliance Partners.
ALL ARE WELCOME to join in our activities! JCC members, non-members, those who live near or far, people of all backgrounds, faiths, ethnicities, hair styles, fashion choices, chocolate preferences, etc. "The more the merrier!"
ATTEND >