Upcoming Events
To find a particular event, browse by date, filter by program, or enter a search term.
Still Traveling: Picturesque Paris
Monday, November 1 @ 11:00 am

–

Monday, November 22 @ 12:15 pm
Zoom with us to Paris to spend time with our terrific, professional, local guide, who leads these NEW multi-faceted journeys!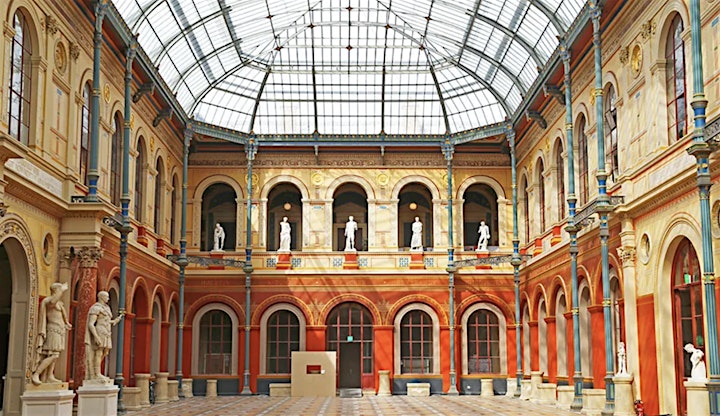 Still Traveling
Would you like to still travel? Now you can without leaving your home – just stay still!
Let us whisk you away for an "armchair adventure" on an interesting, educational, fun & live, guided group tour in a destination beyond your front door …even beyond the grocery store!
Forget the long, masked airplane ride, we take you across the time zones by Zoom where a local professional guide from a distant destination will take us to explore sites or topics. Live Q&A, photos, graphics & video clips (when available) will transport us to the destination!
Your ticket purchase helps support our special guests – professional guides – who are mostly or completely out of work.
Still Traveling: Picturesque Paris
Mondays, November 1, 8, 15 & 22
11am-12:15pm (PT), 12-1:15pm (MT), 1-2:15pm (CT), 2-3:15pm (ET)
on Zoom
Back by popular demand with 4 new tours!
Join trip leader James Sokol to zoom away and spend time in Paris with our terrific, professional guide who leads this series of interesting tours in four different neighborhoods in the gorgeous and romantic "the City of Light!"
To "meet" our trip leader James and hear about our travel program, click here.
Your ticket purchase helps support our local guide who has lost most or all income during the pandemic.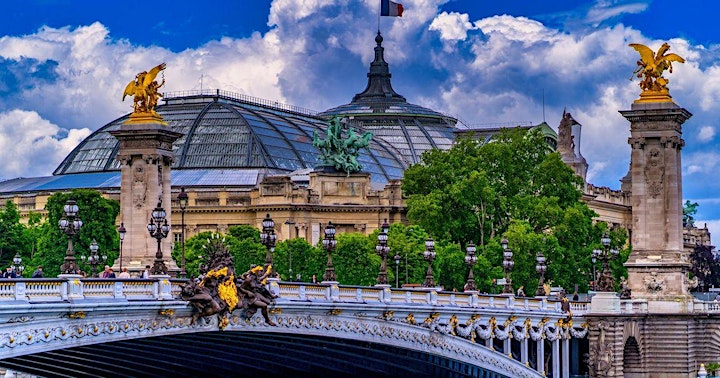 Our Paris "Tours" Include:
How Paris Became Paris (Nov 1)
Discover how Paris became everyone's favorite city to visit. Admire the best-preserved examples of historic architecture, from medieval streets to the fashionable boulevards and squares. Witness how Paris also evolved into a modern city, from the Eiffel Tower and Grand Palais to Art Nouveau, Art Deco and fantastic and controversial contemporary designs. Learn how Paris became the fashionable city for strolling and shopping with visits to the sumptuous 19th-century covered arcades and the ground-breaking department stores.
Saint-Germain-des-Près (Nov 8)
This tour captures the essence of Paris on the Left Bank: the old abbey church of St Germain, charming streets lined with bookstores and literary cafés, old squares, artists' studios, the famous Paris Fine Arts School, the hotel where Oscar Wilde died, and the beautiful St Sulpice church with the mysterious gnomon and rose line, featured in the Da Vinci Code. We will also explore the renowned institutions of the French Institute and the French Mint, as well as the fabulous Luxembourg Gardens.
The French Revolution (Nov 15)
We start at the Bastille square and the Palais Royal for the beginning events of the Revolution. Then we see where the revolutionaries lived and met in the Latin Quarter. We hear how Thomas Jefferson and Benjamin Franklin came to Paris for support in the American Revolution and helped inspire the French. We enjoy the oldest café in Paris, and the hall where Danton and the radical Cordeliers' club held their debates. We hear the chilling stories of Dr Guillotin's sinister 'razor', and Marat stabbed in his bath by Charlotte Corday.
Hemingway's Paris and the Writers of the Left Bank (Nov 22)
Explore the charm of the Latin Quarter with the old houses and courtyards of the Mouffetard market street, associated with many writers: Joyce, Orwell, Balzac, Hugo, and immortalized by Hemingway in A Moveable Feast and in Woody Allen's Midnight in Paris. Discover where it all began for Hemingway at his first apartment and writing studio. Visit the cafes of Montparnasse, the center of the universe for artists and writers of the 1920s and 30s. See where Fitzgerald, Man Ray, Gaugin, Modigliani, and many of the celebrated artists and writers lived. Stop at Gertrude Stein's studio with her pioneering modern art collection. The tour finishes at Sylvia Beach's original Shakespeare and Co. bookshop, where she first published James Joyce's Ulysses.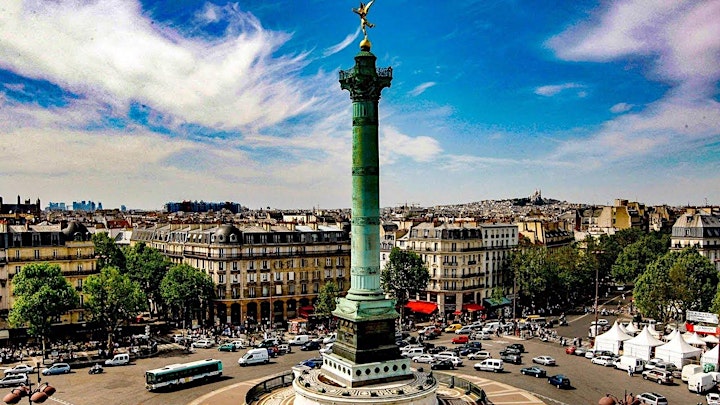 Tickets & Notes:
Full Series Ticket ($50): Series of 4-visits (equals $12.50/visit).
Give-Us-A-Try Ticket ($12.50): Check us out by giving our first "trip" (Nov 1) a try. Single tickets are not available to subsequent trips and cannot be credited toward series purchase.
All Tickets: …are 1) are per device, not per person on Zoom, and 2) are non-refundable & non-exchangeable.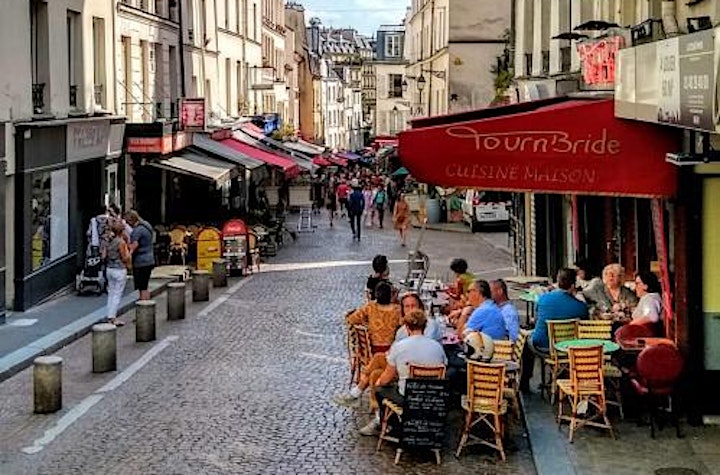 The Fine Print:
Fortunately, we've had very few issues, but just to be clear…
Your Zoom "Event Link": The Zoom event link will be emailed to all registered guests 2-days prior to the first tour. To help it land in your "inbox," please add the following emails to your contacts:
James Sokol — jsokol@marinjcc.org
JCC Alliance — alliance@marinjcc.org
Registrants are requested to make sure the email w/link has arrived by the evening of Sat, Oct 30th. If the email does not arrive, please see "Troubleshooting" below.
The email w/link will be re-sent to all registrants about 2-hours prior to the first tour. NB: However, if it landed somewhere other than in your inbox the first time, it will probably do the same later.
Have a Comcast email? Please refer to this guide: https://www.xfinity.com/support/articles/spam-filters-and-email-blocking-new-experience.
Troubleshooting: We will do our best to remedy any issues. Registrants who have NOT received the email w/link are asked to check their email "junk" and "spam" folders. If found, please move the email to your inbox. If the email/link is still not there, please contact James (see below) immediately.
Late Troubleshooting: We will try our best – but cannot guarantee – help with Zoom links to guests contacting James less than 2-hours prior to the event.
Live Only: In agreement with our guides, artists, instructors, special guests, etc., events are not recorded. Make-up sessions are unavailable. Credit/refund is not given for missed events.
Liability: While we will do our best to remedy any issues, The Osher Marin JCC & its Program Partners cannot be held responsible for 1) issues related to Eventbrite or Zoom, 2) ticket buyers not following the instructions above, nor 3) packing, shipping, or deliver services of food/beverages not received in time for tasting events.
Don't ya just hate "the fine print?!!"
Questions? Email James at jsokol@marinjcc.org.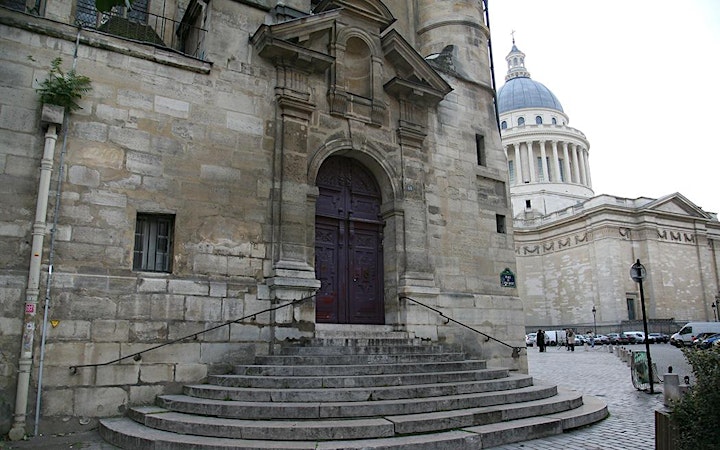 Still Traveling is created by the Osher Marin JCC (San Rafael, CA) and offered by the National JCC Adult & Senior Alliance. See below for a full list of Alliance Partners.
ALL ARE WELCOME to join in our activities! JCC members, non-members, those who live near or far, people of all backgrounds, faiths, ethnicities, hair styles, fashion choices, chocolate preferences, etc. "The more the merrier!"
ATTEND >